Welcome to my website. Or more specifically, your page on my website. It's where you find the most relevant examples of my past work and some details about working with me. I'll start off by some feats to show you I'm not just bark without the bite.
Once upon a time, I wrote...
...all emails for a women's fashion brand.
A guy who had just bought a dropshipping store needed someone to revamp his whole email marketing. New software, new strategy, new tone of voice. All packed in forty emails, spread over around a dozen flows in Klaviyo, including flows for abandoned carts, upcoming birthdays, and post-purchase upsell.
Long story short, I got some killer open rates,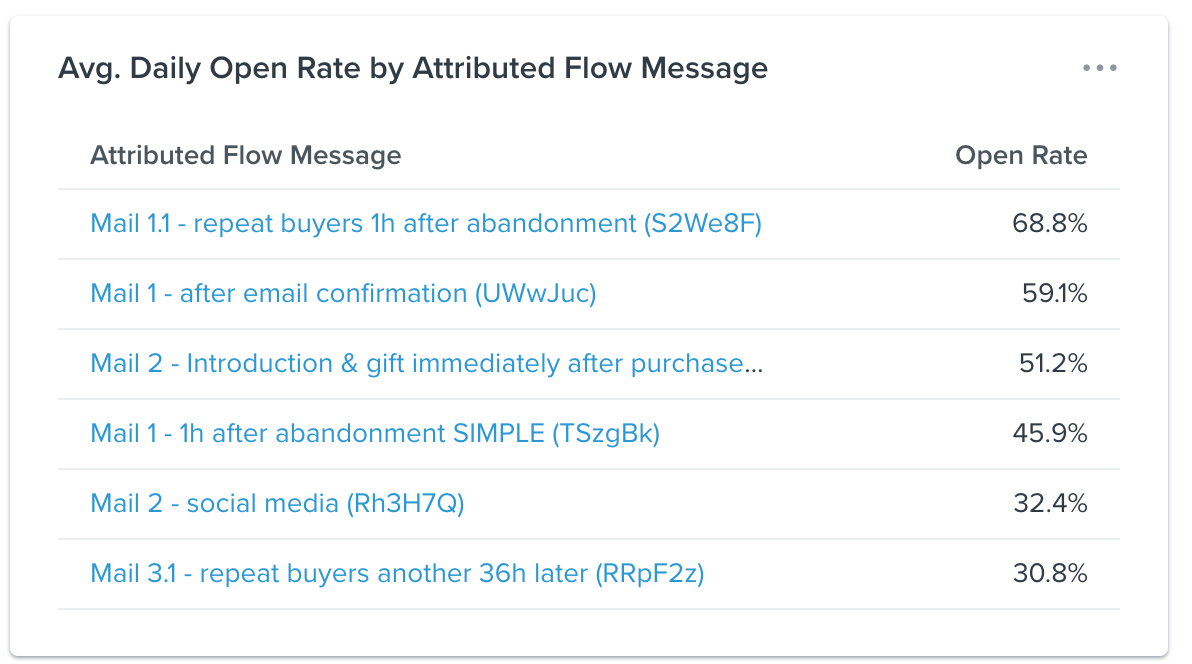 some real nice click rates,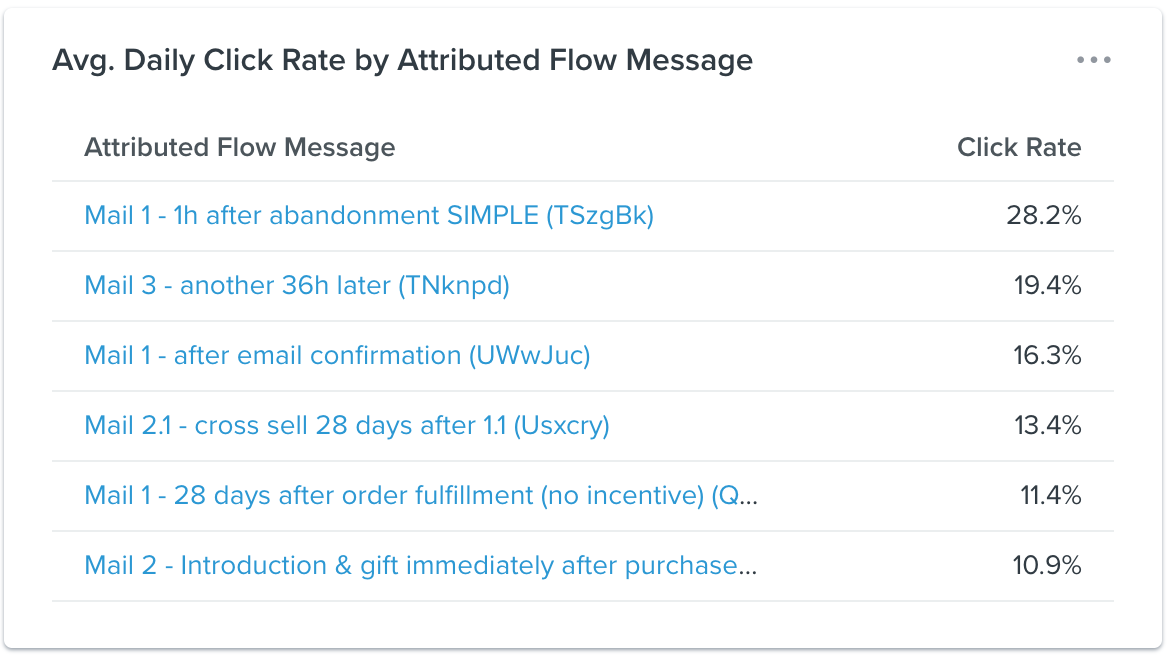 and better campaign results than ever before. The store's average open rate was 7% when he bought it. We got: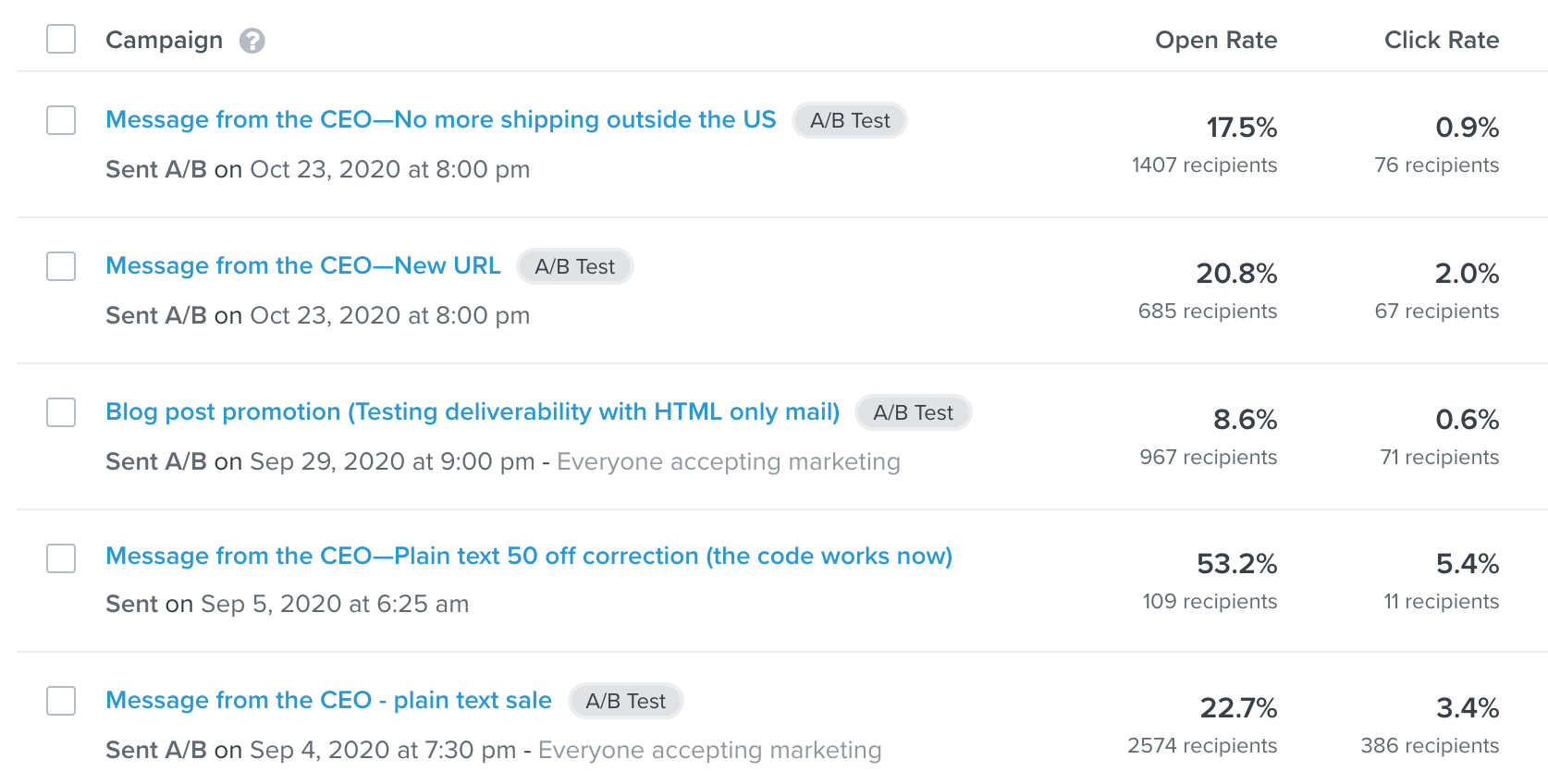 Okay okay, but what's the industry standard? Glad you're asking. Klaviyo, the software I used for this project, gives us the benchmarks:
Automated flows: Fashion & Apparel: 26.00% (open rate) | 4.90% (click rate)
Campaign emails: Fashion & Apparel: 11.40% (open rate) | 1.30% (click rate)
Here's what the store's owner said about me:
"Great freelancer. Pat immediately settled right in with my existing team. His copy is engaging, his process methodical and his output high-quality. He is very responsive, collaborative and brings great ideas to the table. He is also adaptable and willing to learn new things (Klaviyo, for example, was new to him, but he has taken to it like a duck to water). Finally, he takes initiative, is patient when there are other priorities dragging me away, is very accommodating of changes in the business and, finally, is an all round lovely bloke. I'd have no trouble hiring him again for future copywriting needs."
And he did hire me again. And then again. And now he refers to me as his "go-to copy guy," which makes me blush a little.
...some more social media ads that killed it.
I've been hired on a per-project basis by a one-man-FB-marketing-powerhouse. They send me over regular ad copy briefings from various clients and then let me go wild with it. Here's an example: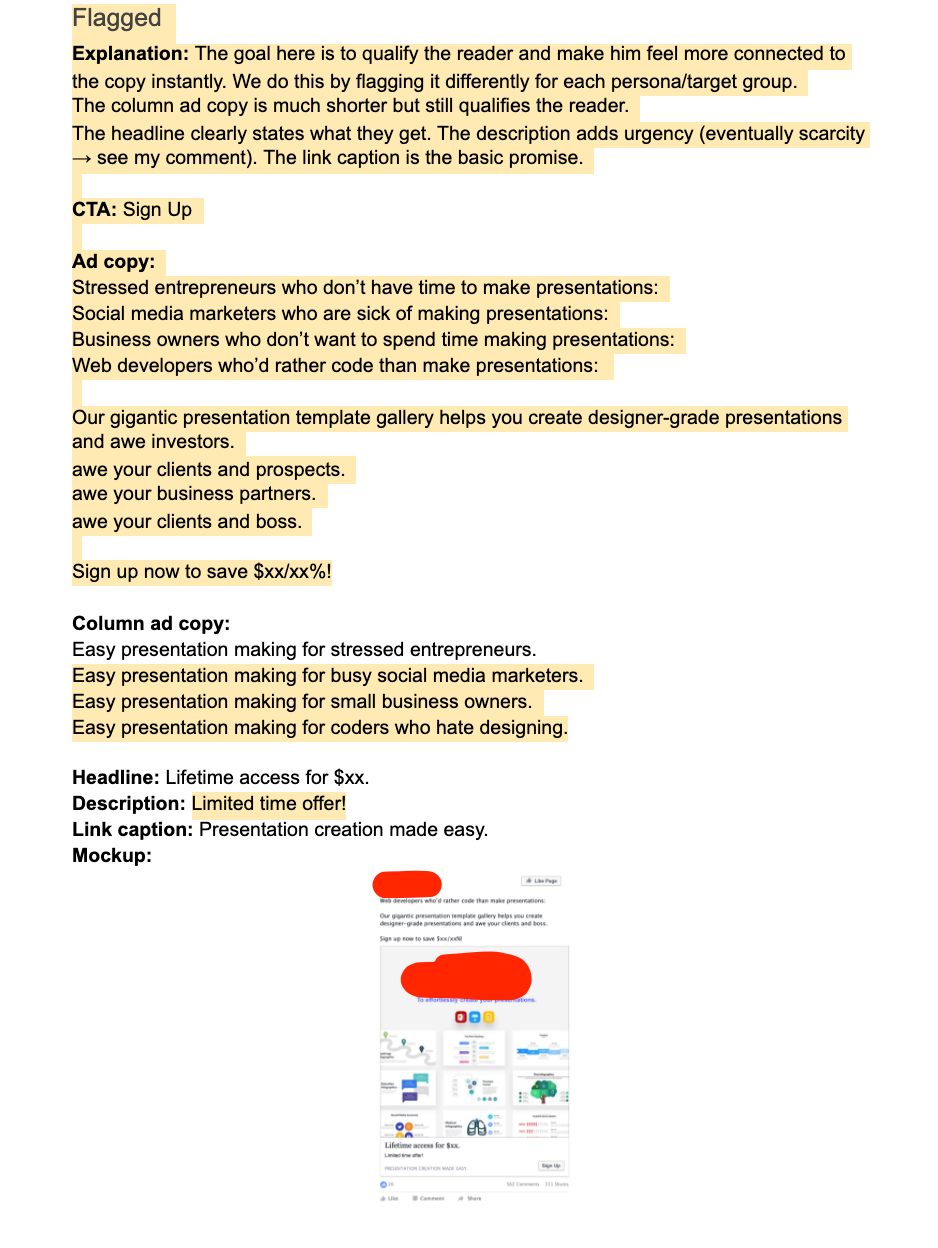 Every word has its place, and I like to take my time to explain it. Here, instead of just writing one ad, I took a modular approach. With it, they could target each audience individually (i.e. entrepreneurs, social media marketers, business owners, etc.)
Here's what they said about me:
"Pat was a true pro from end to end on this project. He clearly communicated the files that would help him complete this job and delivered high quality copy in the time frame he gave me. What more can you ask for? I highly recommend Pat A++!"
To my delight, they keep re-hiring me.
Here's an example of some long form ad copy I've written for them: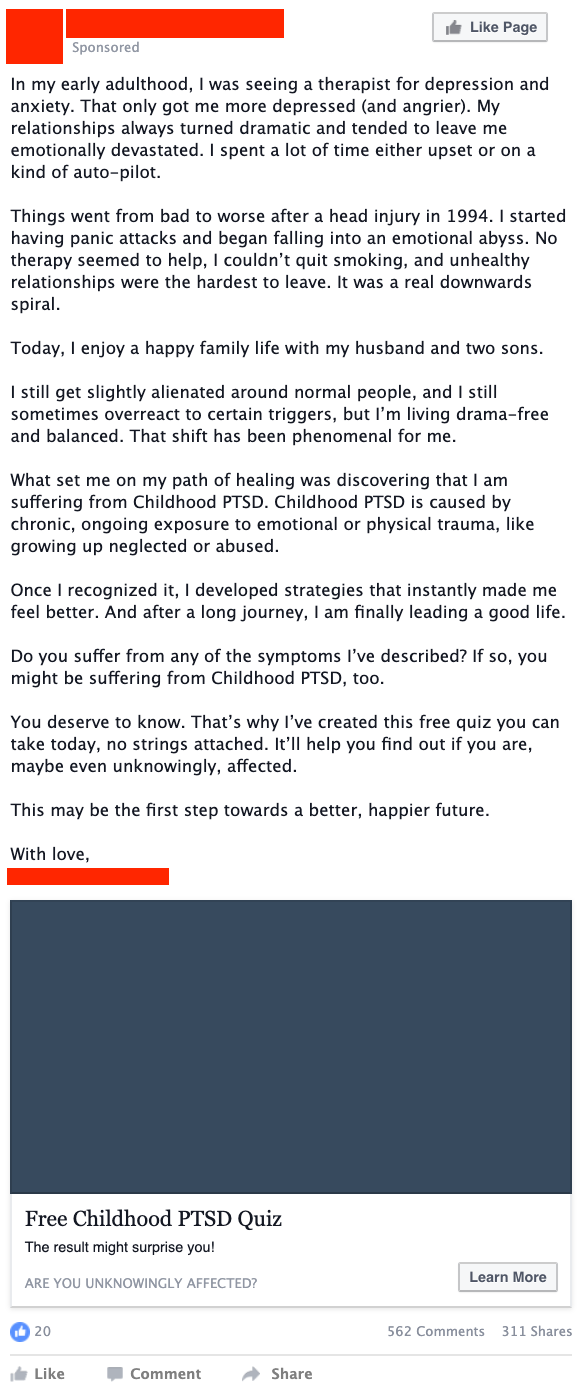 (That copy turned $200 ad spent into $500 over the weekend.)
...website copy that a high-end woodworking company's phone ringing non-stop.
My first client, Lignum, hand-crafts amazing pieces for giants like Ritz-Carlton, Marriott, and Rolex.
First, they hired me to create social media posts. After around 100 posts, they asked me to re-write their website copy to rank higher on Google.
So, we defined the competitors they wanted to outrank and the keywords they wanted to outrank them for.
We managed to overtake our competition and land first place on the hottest keywords in town:

They said their phone doesn't stop ringing.
...and more.
I've also written blog posts (like the one about how to write killer ads), other social media ads, video scripts, newspaper articles, and a lot more.
Additionally, I consult in branding, storytelling, tone of voice, and copywriting. I create brand guides, give workshops, and craft content strategies.
I'll tell you all about it over a Manhattan (or a cup of coffee).
Pricing.
You suggested sharing revenue. I'm in! Let's discuss the details on the v-call.
I can work for a maximum of 5h each week. Here's what week 1 would look like:
The plan for week 1.
Your first concert is in 12 days, and you promise to have them delivered 7 days in advance. To hit the ground running, I suggest we focus on setting up social media ads and running them directly to your sales page.
Additionally, we post daily stories and posts on your social media channel, and leverage your email list.
Deliverables:
Ad copy & visuals (several to A/B test)
—>I create visuals with canva.com. Check out this post to see some examples.
Facebook Ad Manager setup
Social Media posts & stories
Newsletter copy
I have questions.
Before we can start I need some (a lot) more information about your business, your numbers, and your clients. Do you prefer to fill out a Google form, or discuss everything over the phone, interview-style?
I will need access to:
Google Analytics (to learn about your audience and analyze our results)
Your Facebook page (to set up the Ad Manager)
Wix (to integrate the Facebook Pixel)
Your email software (to schedule the newsletter)
Skál
If you dig my style, I'm looking forward to rocking this with you!
—Pat