Welcome to my website. Or more specifically, your page on my website. You'll find all information that's relevant for you here. I'll start off by some feats to show you I'm not just bark without the bite.
Once upon a time, I wrote...
...ad copy that made people click (and blush).
A kinky company named Joyful Couples hired me to translate their Facebook ads from English to German.
But instead of just translating, I suggested some new ads as well, explaining the psychology of selling.
They liked my approach and hired me again for another badge.
You can read the full case study here.
...some more social media ads that killed it.
I've been hired on a per-project basis by a one-man-FB-marketing-powerhouse. They send me over regular ad copy briefings from various clients and then let me go wild with it. Here's an example: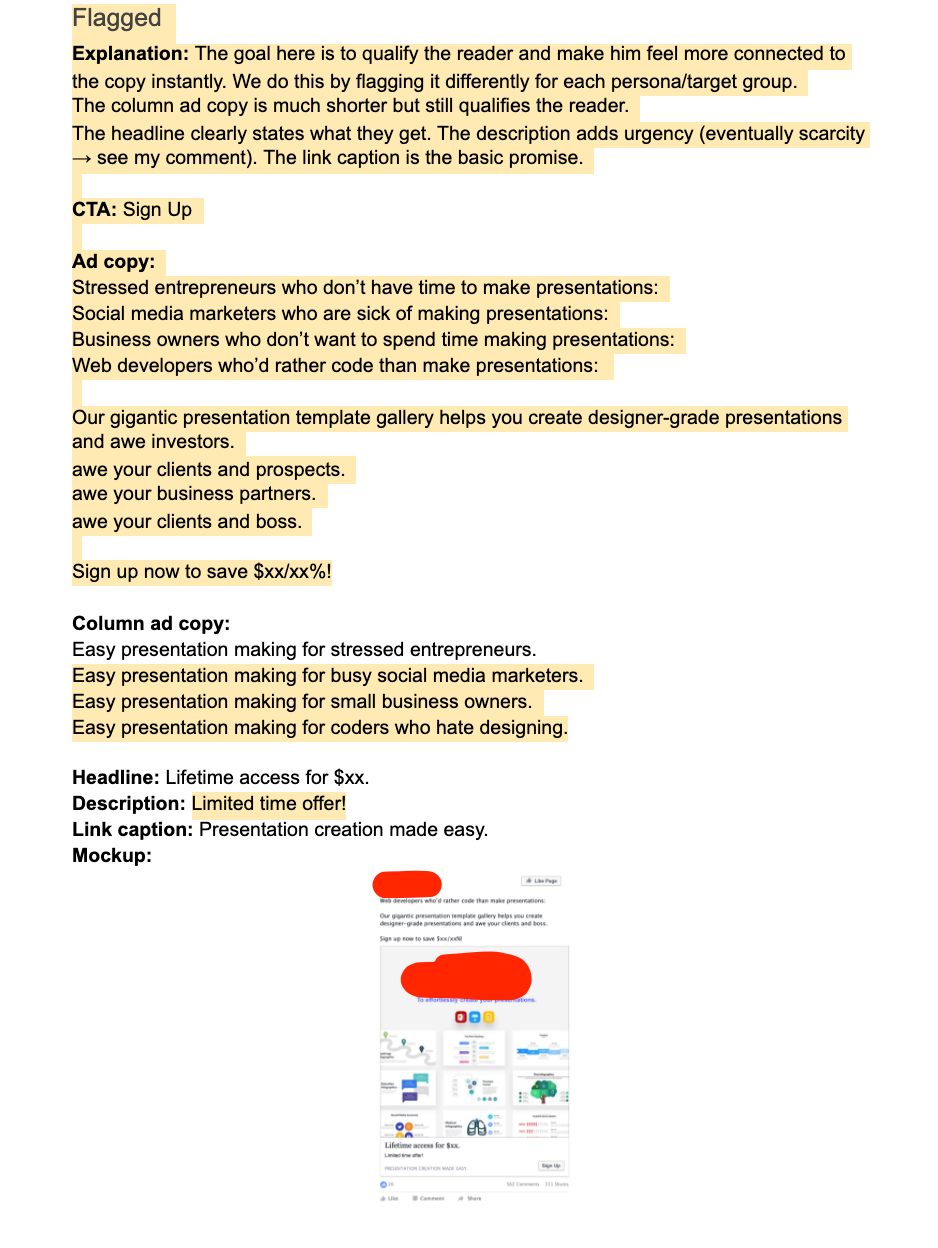 Every word has its place, and I like to take my time to explain it. Here, instead of just writing one ad, I took a modular approach. With it, they could target each audience individually (i.e. entrepreneurs, social media marketers, business owners, etc.)
Here's what they said about me:
"Pat was a true pro from end to end on this project. He clearly communicated the files that would help him complete this job and delivered high quality copy in the time frame he gave me. What more can you ask for? I highly recommend Pat A++!"
To my delight, they keep re-hiring me.
Here's an example of some long form ad copy I've written for them: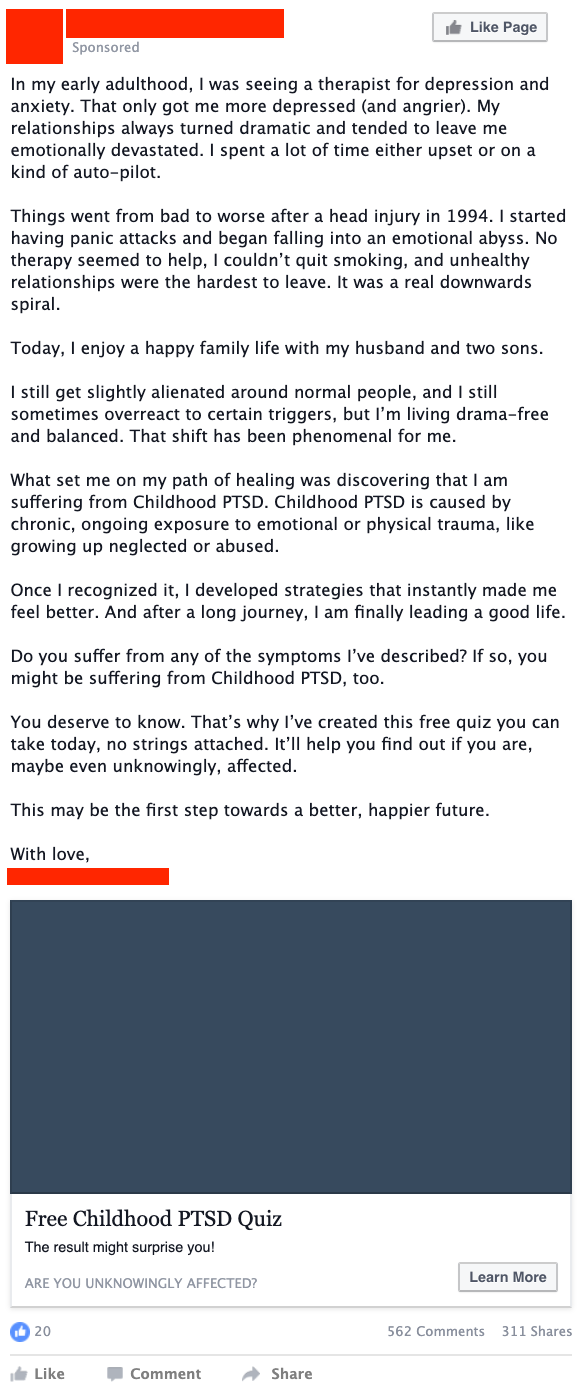 (That copy turned $200 ad spent into $500 over the weekend.)
...website copy that a high-end woodworking company's phone ringing non-stop.
My first client, Lignum, hand-crafts amazing pieces for giants like Ritz-Carlton, Marriott, and Rolex.
First, they hired me to create social media posts. After around 100 posts, they asked me to re-write their website copy to rank higher on Google.
So, we defined the competitors they wanted to outrank and the keywords they wanted to outrank them for.
We managed to overtake our competition and land first place on the hottest keywords in town:

...and more.
I've also written blog posts, other social media ads, video scripts, newspaper articles, and a lot more.
Additionally, I consult in branding, storytelling, tone of voice, and copywriting. I create brand guides, give workshops, and craft content strategies.
I'm happy to tell you all about it.
Me, myself, and I.
I started writing copy when I was 16 years old. I worked full time as a banker—learning to sell like mad—and built some side-hustles. Because all my projects needed websites, I learned to code, design (a little), and write the copy for them.
That was eight years ago. Nowadays, I work as a freelancer with various companies, agencies, and private people.
Having drafted this page for you means that I'd like to work with you too.
If you're curious to find out more about me, check out my homepage (copyneat.com), or click the little chat bubble in the bottom right corner.
Pricing.
I'm very flexible when it comes to pricing structure. Here are my general guidelines:
Hourly: I write copy (like ads or website) for $120 per hour. I write content (like blog posts or articles) for $90 per hour.
Per word: Copy is $0.30–$1 per word, depending on the difficulty and time investment. Content is $0.20–0.50 per word. There are some projects I can't price that way, like creating slogans or writing short FB ads.
Per project: You can always ask me to give an estimate project price. This might be useful for sales funnels or landing pages.
Retainer: I like working on a retainer because it gives me security. If you decide to hire me on a retainer, you pay me for a fixed amount of hours at the beginning of each month. For that, I offer a 30% discount.
–> If you hire me for 10h, it would cost $1'200. If you pay me a 10h retainer, it costs you $800.
Splitting profits: I do this very rarely. When I am certain a company and its products sell well, we can talk about splitting profits or paying me by the lead.
My offer for you.
I will:
write 3x short-form copy.
write 1x long-form copy.
suggest 4 images or image ideas to go with my copy.
In all those deliverables I'll assist with strategic decisions like when to call viewers to what action or what we can nurture our leads with.
Deadline: 15.11.2020.
Normally, I'd price this whole package based on the guidelines above at $150 but...
... I've got a special offer for you.
If you're impressed with my writing, I could become your "go-to" copy guy. Until then, we can look at this as a trial project, where you get 50% off.
This puts the final price at $75.
If you dig my style and find this a fair offer, I'm looking forward to rocking this with you!
—Pat